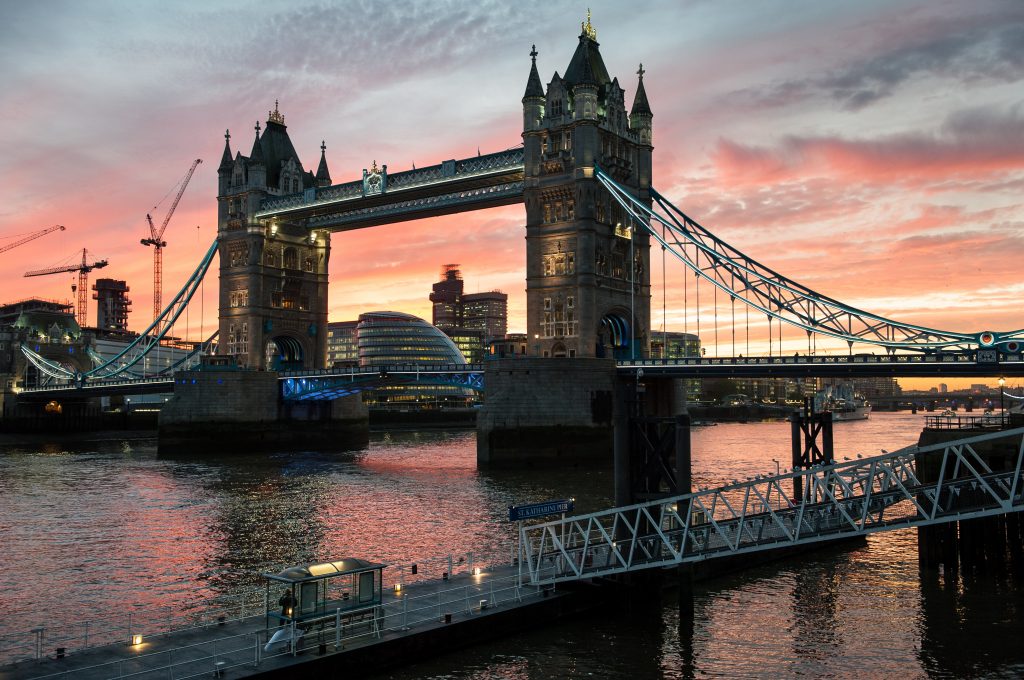 I took this photograph of Tower Bridge at sunset on a November evening at 5.30pm.
Autumn in the UK can result in some fantastic sunsets. I know sunset pictures can be a bit of a cliché but I think it's OK in this shot. The sky was amazing so it would have been a shame not to photograph it.
Taken on the northern side of the River Thames, near St Katharine Pier at the junction with the river and the entrance to St Katharine Docks, I included the pier to give some foreground interest and carefully composed the photograph.
It's always a good idea to carefully compose photographs but this time was particularly important.
Can you see why? Can you spot anything missing from the image?
There is something missing and I'll give you a clue. It's huge and very prominent in London.
It's the Shard.
I could have included it in the photograph but in this shot it seemed better without it.
By carefully composing I managed to hide the Shard behind the north tower of Tower Bridge. The right hand tower in the photograph.
It's funny how at first glance it's not obvious that something is missing from the photograph.
I've tweeted this image a few times and only once has someone commented on the missing Shard.
What the eye doesn't see the eye doesn't miss.
I've taken plenty of photographs of Tower Bridge that have included the Shard but this time it looked better without it.
The photograph of Tower Bridge at sunset was taken handheld with a Nikon D700 and 35mm lens. 1/50 sec @ f/5 ISO 800
Some of the text in this post has been taken from my eBook Photographing London a great guide to capturing iconic images of London.
It's available from Amazon, iBooks and all the major eBook outlets.