A good photograph is knowing where to stand – so the great American landscape photographer Ansel Adams once said.
This is often quoted and is completely correct. It doesn't matter what you're photographing. There will always be the best location or angle to take a picture from.
So as I watched tourists taking photographs of Piccadilly Circus, I wondered what sort of images they'd end up with, and I came up with the idea of my eBook Photographing London.
I'm very lucky to live and work as a photographer in London, one of the most photogenic cities in the world.
It's a very popular destination with millions of tourists from all over the world visiting each year.
Everyone visiting will have a camera, whether it's the latest digital camera or the camera on their phone.
And everyone will want to take the best possible photographs, so Photographing London is full of information, advice, maps and of course photographs, to help take the best photographs of London.

London is a large city with plenty to photograph, so it took me a while to work out what I think are the best locations and angles.
The result is that Photographing London has 350 of my photographs, from the main sites such as the Palace of Westminster and Tower Bridge, as well as some less well known but equally photogenic locations.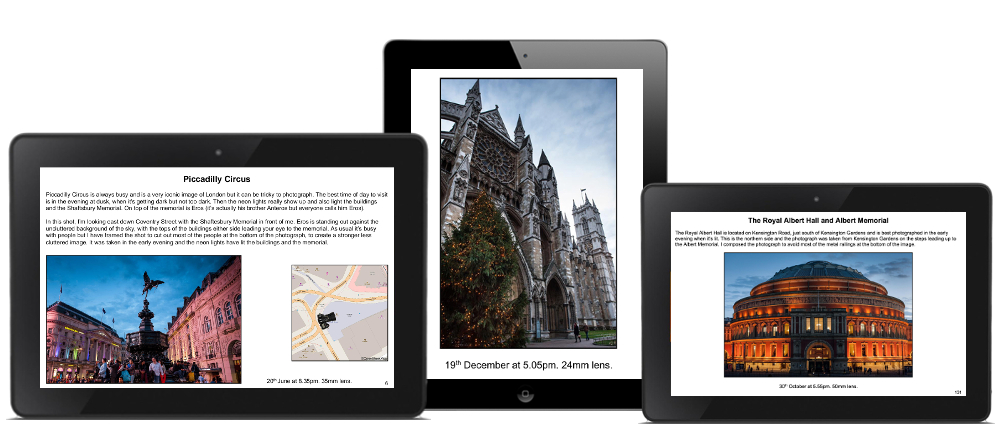 The photographs have a map showing showing exactly where I stood to take the photograph and a description of how and when I took it. There are also tips on photographic technique and composition throughout the book. And at the end of the book there is as section on the basics of photography. Useful if you are new to photography.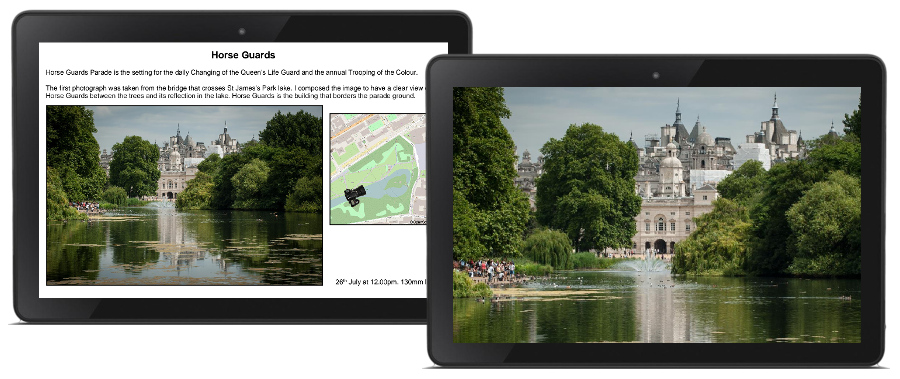 And as it's an eBook you can have it with you on your phone or tablet etc. without having to carry a traditional book with you.
Photographing London has 34 searchable chapters, so it's easy to find the information for the part of London you're photographing.
Here are a couple of reviews from satisfied buyers:
Glorious photos and a user-friendly guide for amateur photographers.
As a Londoner, and an enthusiastic but very amateur photographer, I highly recommend this book. I am currently trying to improve the quality of the images I take and this book is full of helpful advice regarding composition, colour, exposure etc, as well as pertinent tips for London itself, such as vantage points, times of day and practical information for tourists. The photographs themselves are a joy, and a celebration of the varied, colourful, stylish and iconic city that I love.
Five stars.
Fantastic book! Very informative, incredible pictures and tips. If you love London and photography, this is for you!
For more information see Photographing London
Photographing London is available from the main eBook outlets: Photographing London retailers